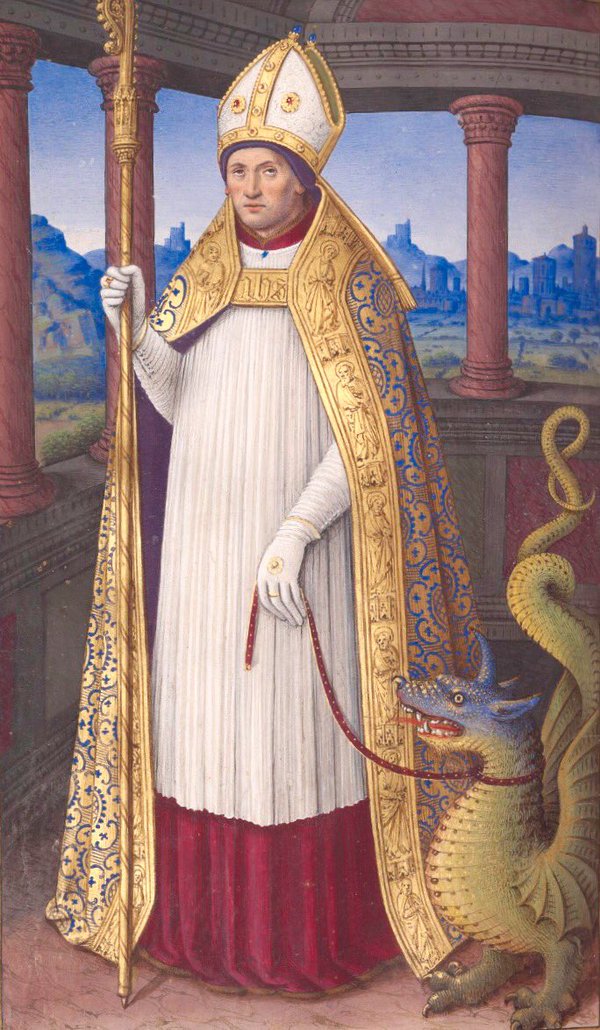 I stole that joke from Twitter, by the way, from a mediaevalist at Liverpool University.
This image is, according to "the Internet", Saint Lifard and his dragon.  No 'Saint Lifard' can be found elsewhere. A French site suggests that Saint-Lyphard – the name of a commune in Weatern France, derives from the Breton Seint Lifa or Seint Nifa, of whom, again, no trace can be found. Another suggests that Saint Lyphard was Abbot of Meung in the 6th century and that his original name was Leobafar. Saint Liphard gives his name to a number of other French places but very little is known of him, except that he was said to have drained the swamp at Meung-sur-Loire.  When I first looked, there was no explanation of why he might be taking a dragon for a walk.
I have solved this mystery. In Les Vies des Saints pour Tous Les Jours de l'Annee, Claude Proust explains that a terrible dragon was menacing the area where the saint lived and, most inconveniently, it had taken up residence near the spring which provided water for the saint. The dragon frightened off the saint's disciple, Urbice; trembling in front of Saint Liphard, he was reprimanded: "My brother, where is your faith? What do you fear? Take my staff and drive it into the earth before this dragon."  The terrified disciple did as he was bid: the dragon, enraged, threw itself upon the staff and attempted to rend it into pieces.  Finally, the dragon killed itself "through the force and violence of its contortions".  Saint Liphard, going himself to see the dragon, heard a host of demons fleeing their dead host, crying Liphard, Liphard;  the alarmed citizens heard this and believed that the saint was dead; they found him, however, tranquil and at prayer. Thereafter the saint's reputation was, naturally, considerably enhanced.
And if anyone has the temerity to correct my French – by all means, please do.  Please.
Image rights: Bibiotheque Nationale de France here.  From the Book of Hours of Anne de Bretagne.